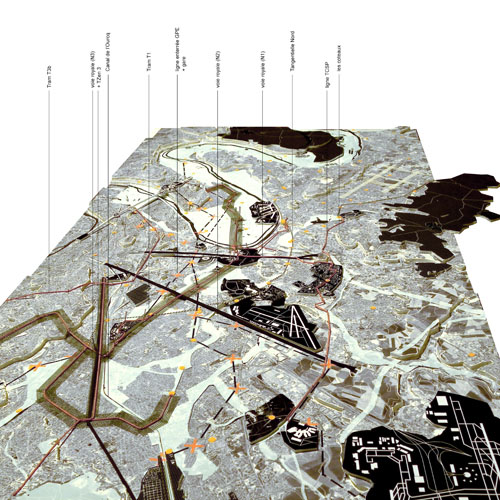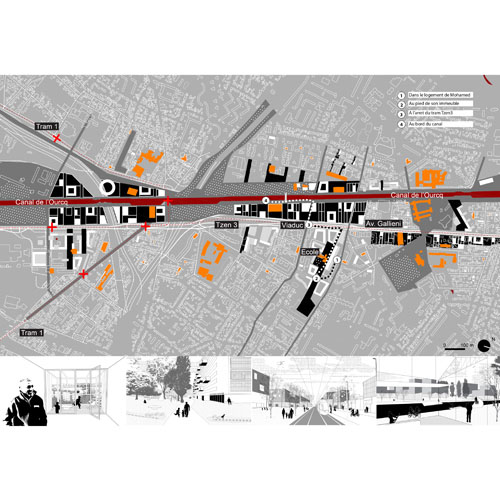 Grand Paris 2_Habiter

| | |
| --- | --- |
| client: | France Goverment, Conseil scientifique de l'AIGP |
| program: | territorial vision |
| date: | 2012-2013 |
| consultant: | PTV France, Tribu Energie, Biodiversité, MOXOX |
| team: | Studio, landscape, urbanism |
| | M.Durand, N. Fonty, A. Rafful, R.Sega, G.Vanneste, P.Varloteaux, M.Wauters, Q.Zhang |


The vision and strategy we propose is based on the idea that all ongoing major transformations give the occasion to redefine the livability of Greater Paris, and it is from this that it might be also possible to enhance the territory of the metropolis.
Living is a complex practice that is about people and 'city -users ' economic actors pursuing their activities and those arriving to implement others, it is a practice regarding proposed new residents in urban projects and all those who have cultural relations today or memory with the territory.
For these practices live must comply places in living spaces, as temporary stable, reduce the current risks, resolve conflicts between the territory of production, territories mobility and habitat rediscover the slopes and channels, large parks on the edge of Grand Paris and the River Seine, and finally restore the ecological relationships at different scales.
This is from an open but sufficiently clear in its definitions vision, goals and assumptions , which may raise the question of the meaning and coherence of urban and landscape changes in current and future.